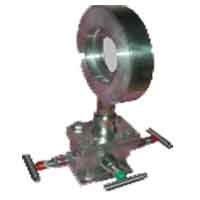 Carrier Rings are used


1) When flanges are not sufficiently thick for tapings.
2) On Lined Pipe Lines
3) Used with composite flanges
4) Where pipe tapings are not practical

This Carrier Ring is made fromsolid one piece,Orifice plate is part of this carrier Ring.Tapping position is fixed at the time of manufacturing and can not be changed afterwards.These are manufactured for line size 15NB on wards. Tap type is corner tap.